Join us - RSVP here
Run For Rice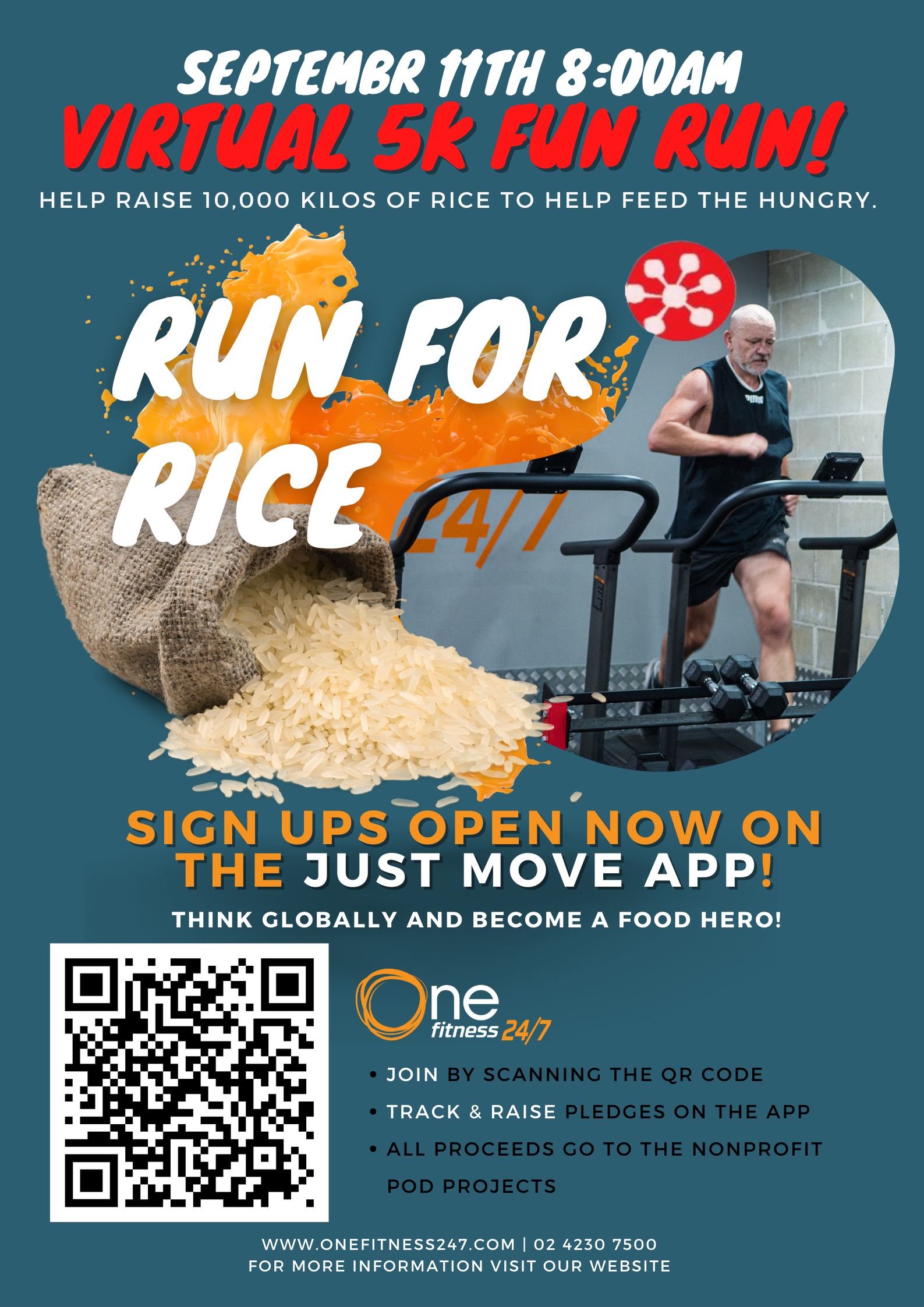 One Fitness 24/7 is a community based gym in Kiama NSW. We recognizes that Covid 19 has really shaken not just our local community but the global community on a gigantic scale .
⁠
Australia continues to experience many of the challenges & changes that Covid has brought upon us all. The struggle has definitely been real for everyone. We all share a mutual frustration & often feeling of no control as we cycle through periods of stay-at-home orders and lock downs.

If we broaden our focus globally we can often consider ourselves lucky to be weathering this storm here in Australia. On a larger scope places around the world are impacted in ways we can barely imagine. Places like Cambodia have limited access to quality free or affordable health care, don't always have comfortable homes to bunker down at, have been out of work for over a year, & are literally starving. This pandemic has had catastrophic effects & continues to do so.
Join One Fitness & Pod Project team as we Run For Rice! The goal, send 10,000 KILOS OF RICE to provide vital Humanitarian Aid Food Parcels to those in desperate need in Cambodia.
Help contribute positively to our global community by becoming a Food Hero.
⁠
The fundraiser starts NOW but the run will take place on September 11th during National Rice month.
⁠
You can participate no matter where you are in the world!

- Scan the QR code or click the link here to download the Just Move App
- Search "Run For Rice" under Charity.
- Select "Join" to participate
- Collect sponsors &/or pledges to donate to your run on the Just Move App or Go Fund Me Page
- Run your 5Ks on September 11th
- Take a sweaty selfie or video during or after your run & tag @OneFitness24/7 @podprojects_nfp_cambodia



Bid for great prizes from our sponsors where all the proceeds go to reaching our goal of 10,000 Kilos of rice!
- Head to the following Instagram's to bid on the following prizes in the comment section.
(More info on this coming soon)
Please visit OneFitness247.com for more information, how to contact us or to sign up.
⁠
@podprojects_nfp_cambodia #OneFitness #Kiama #Fundraiser #rice #Gym #Event #GlobalCommunity⁠
Download the Just Move App Here!